Speakers Bios
Professsor Steven Meers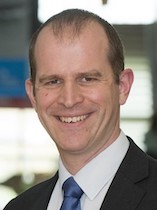 Professor Meers is a Fellow at the Defence Science and Technology Laboratory (Dstl) specialising in application of artificial intelligence and machine learning to defence and security challenges. He is the Head of Dstl's AI Lab and provides advice at the highest levels within the Ministry of Defence regarding the opportunities and threats presented by the artificial intelligence and machine learning and how UK can responsibly & safely adopt these technologies to strengthen Defence and Security. Professor Meers completed his PhD studies on signal processing for underwater acoustics and ultrasonics in 2002 at the University of Southampton before embarking on a career within the Ministry of Defence.
His work has included leading a multi-million pound project to develop and validate innovative new military concepts which influenced several hundred million pounds of MOD acquisition, developing new methods of analysing sonar data, leading the development of Dstl's capabilities in data analytics & measurement and signatures intelligence (MASINT), being one of the key architects of the Joint Force Intelligence Group's Centre for Intelligence Innovation and finally overseeing a major deployment to Afghanistan to counter the threat from improvised explosive devices which resulted in a significant reduction in injuries to coalition forces. His work directly informed the 2015 Strategic Defence and Security Review and MOD's Future Force Concept.
Professor Meers is a Chartered Engineer and a Fellow of the Institute of Engineering and Technology. He is married and lives in Hampshire with his wife and two daughters. He is a musician, playing the trumpet in both classical and jazz ensembles, a technology and gaming enthusiast and a regular runner.
Professor Mark A Girolami FRSE FIET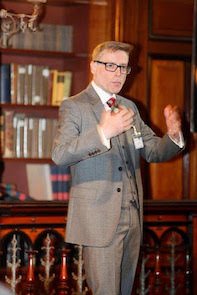 Mark Girolami is a computational statistician who in March 2019 was elected to the Sir Kirby Laing Professorship of Civil Engineering (1965) at the University of Cambridge where he also holds the Lloyd's Register Foundation - Royal Academy of Engineering Research Chair in Data Centric Engineering. Girolami is a chartered engineer who spent ten years with IBM within manufacturing and latterly product development and design. He is honorary Professor of Statistics in the Department of Mathematics, Imperial College London, and Programme Director at The Alan Turing Institute where he was one of the original founding Executive Directors. He was an EPSRC Established Career Research Fellow (Mathematical Sciences) 2012 - 2018, and directly prior to that an EPSRC Advanced Research Fellow (ICT) 2007 - 2012. In 2010 he was elected to the Royal Society of Edinburgh and received a Royal Society Wolfson Research Merit Award.
 In 2017 he delivered the Medallion Lecture at the Joint Statistical Meeting, the Forum Lectures at the European Meeting of Statisticians, and in 2020 will deliver the popular series of public Turing Talks of the British Computer Society and the Institute for Engineering and Technology. Girolami is Editor-in-Chief of Statistics and Computing, and founding EiC of the Cambridge University Press journal Data Centric Engineering. 
Talk Abstract: Lord Kelvin is attributed to stating that "To Measure is to Know". The role of empirical observation and data has always been core to the engineering sciences and associated professions. So what does Data Centric Engineering actually mean? Is this yet another bandwagon of hype or is there substance behind the term? This talk will make a case for the adoption of a Data Centric approach to Engineering across all sectors.
Professor Geoff V Merrett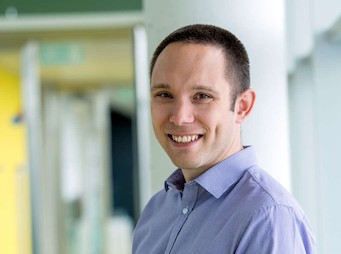 Geoff Merrett is Professor of Electronic and Software Systems at the University of Southampton, Head of the Centre for Internet of Things (IoT) and Pervasive Systems, and Technical Manager of the Arm-ECS Research Centre. He received the BEng and PhD degrees from Southampton in 2004 and 2009 respectively. He was appointed as a Lecturer shortly after, promoted to Associate Professor in 2014, and Professor in 2019. His research interests are in energy management of mobile/embedded systems and self-powered devices, and he has published ~200 papers in these areas. He has received a number of Best Paper awards and nominations, and he has given invited talks at leading workshops, conferences and research groups. He is currently Southampton PI on the £1.2M EPSRC International Centre for Spatial Computational Learning, and Deputy Director of the £1.4M EPSRC Platform Grant on Smart Cities, having previously been an investigator on PRiME, Graceful, and Holistic Energy Harvesting. He serves on the EPSRC Strategic Advisory Team (SAT) for the ICT theme, the eFutures Steering Group, and co-manages the UK's Energy Harvesting Network. He is a member of EPSRC College and the UKRI FLF Panel College, and also reviews proposals for national funders in Italy and the Netherlands. He is an active reviewer for a number of prestigious international journals and conferences, is Associate Editor for IET CDT, MDPI Sensors, and a guest editor for numerous special issues. He co-edited the IET book on Many Core Computing: Hardware and Software, was General Chair of EWME 2016, and was a founder of the ENSsys workshop (co-located with ACM SenSys since 2013), serving as General Chair from 2013-15, and on its steering/organisation committees since 2016. Professor Merrett currently leads a team of 1 research staff and 14 PhD students, and has successfully graduated 16 PhD students. He is Director of Outreach and Recruitment in ECS, and has led on a number of significant outreach projects including the ECS Summer Taster Courses and A-Level Electronic Engineering Teaching Kits, both of which have been nominated for VC Teaching Awards. He is an MSc External Examiner at the University of York, and serves on the UK Electronics Skills Foundation's Strategic Advisory Group. He is a Senior Member of the IEEE, a Member of IET, and a Fellow of the HEA.
Talk Title: Optimising Resource Management for Embedded Machine Learning
Dr Age Chapman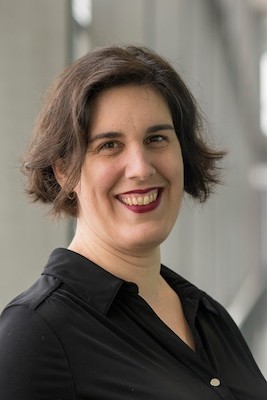 Dr Chapman is an Associate Professor of Computer Science, in the Web and Internet Science Group (WAIS), in Electronics and Computer Science at the University of Southampton. Her research is in the area of database systems, focusing on using data appropriately and effectively, particularly in complex pipelines for decision making. This involves solving problems that span the areas of databases, information discovery and retrieval, provenance, and algorithmic accountability. She has worked closely with the US Federal government, including the Office of the National Coordinators (ONC), the US Food and Drug Agency (FDA) , the National Geospatial-Intelligence Agency (NGA), and the Department of Homeland Security (DHS); in the UK she has advised the National Physical Laboratory (NPL). 
Artificial Intelligence and Data Science are making huge strides in improving the human condition, helping us to make decisions and utilize resources better. We are creating a new economy - the data economy. In support of this, her research revolves around how to ensure that data required for artificial intelligence and data science can be found and used appropriately. This includes: 1) Dataset retrieval: How can we discover datasets and rapidly assess which is suitable for a given task? 2) Data improvement: Can we provide additional information that allows data to be better understood, such as provenance and annotations? 3) Appropriate data usage: How can we ensure that the data chosen is used responsibly? To support algorithmic accountability, can we provide mechanisms that allow end users to understand the algorithmic impact of their data choices (e.g. to support the machine learning algorithms in the criminal justice system). Can we ensure that users's consent on their personal data is honored? 
Talk Title: I'm sorry, what happened?
Professor Dominic A Hudson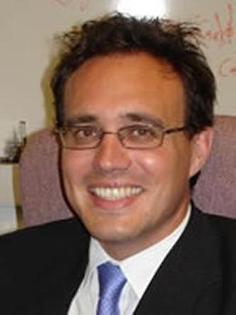 Professor Dominic Hudson is the Shell Professor of Ship Safety and Efficiency at the University of Southampton. From 2008-2013 he was Director of Programmes for the Maritime Engineering degree courses offered by the University. He is a Chartered Engineer and Member of both the Royal Institution of Naval Architects and the Institution of Mechanical Engineers. He has research interests in all aspects of hydrodynamics, particularly motions of vessels in waves, ship manoeuvring and ship design and operation for energy efficiency. He advises Shell Shipping and Maritime on ship efficiency and performance management and is developing new techniques for assessing these using data analytics. With an InnovateUK grant he developed a holistic vessel performance and routing system built on simulation of vessel powering performance in waves and real-time measurements of ship fuel consumption. He is also a member of the Performance Sports Engineering laboratory and has supervised research in sports ranging from sailing to swimming. The University was awarded a prestigious Queen's Anniversary prize for Higher Education in 2012 for its work in performance sports engineering. Prof. Hudson has supervised 21 PhD/EngD candidates to successful outcomes and has 7 PhD students under current supervision. He has published 1 book and over 140 papers in archival journals and proceedings of refereed conferences. Prof. Hudson is presently a member of the committee on Ship Operations at Sea of the International Towing Tank Conference (2017-2020), having previously served on the High Speed Craft (2008-2011), Seakeeping (2008-2014) and Performance of Ships in Service (2014-2017) committees. He was a visiting Associate Professor at Nanyang Technological University, Singapore, from 2011-2016. For extended periods in 2013 and 2016 he was a visiting research scientist with the Institute of High Performance Computing in Singapore as part of the IHPC-SMMI Joint laboratory in Maritime and Offshore Engineering. He has externally examined PhD candidates for Universities in the UK, France, Sweden, Australia and New Zealand.
Talk Title: Improving ship fuel efficiency through development of a performance digital twin
Professor Themis Prodromakis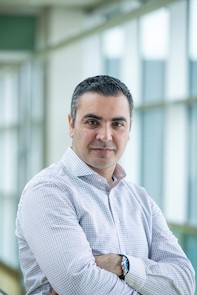 Professor Themis Prodromakis received his BEng. (2003) from University of Lincoln, MSc. (2004) from University of Liverpool and Ph.D. (2008) from Imperial College London. He previously held a Corrigan Fellowship in Nanoscale Technology and Science, funded by the Corrigan Foundation and LSI Inc., within Imperial College and a Lindemann Trust Visiting Fellowship in EECS UC Berkeley. Since 2013, he has been with the University of Southampton, where he is currently Professor in Nanotechnology and Royal Society Industry Fellow and leads the Electronic Materials & Devices Group within the Zepler Institute. He is Fellow of the IET and the Institute of Physics and serves as Director for the Lloyds Register Foundation International Consortium for Nanotechnology (ICoN: www.lrf-icon.com) and UKRI Centre for Doctoral Training in Machine Intelligence for Nano- Electronic Devices and Systems (MINDS).
Talk Title: "AI on a chip" – A roadmap for embedding intelligence everywhere
Talk Abstract: Artificial Intelligence (AI) is destined to transform our society, affecting every aspect of our lives. However, a key bottleneck towards the proliferation of the technology is the lack of efficient hardware that will allow us to embed AI everywhere – well beyond the cloud's reach. Up until now, the processing of data in electronics has relied on assemblies of vast numbers of transistors – microscopic switches that control the flow of electrical current by turning it on or off. Transistors have got smaller and smaller in order to meet the increasing demands of technology, but have nowadays reached their physical limit, with – for example – the processing chips that power smartphones containing an average of seven billion transistors that are only a few atoms wide. A novel nanoelectronic technology, known as the memristor, proclaims to hold the key to a new era in electronics and AI, being both smaller and simpler in form than transistors, low-energy, and with the ability to retain data by 'remembering' the amount of charge that has passed through them – akin to the behaviour of synaptic connections in the human brain. In his lecture Themis Prodromakis will present a few examples on how such technologies can be used in practical applications, demonstrating our ability to deliver "AI on a chip".
Professor Bashir Al-Hashimi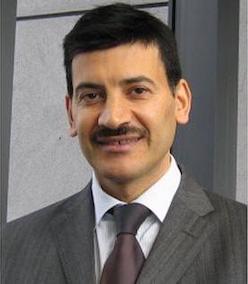 Professor Bashir M. Al-Hashimi, FREng is an ARM Professor of Computer Engineering and Dean of the Faculty of Physical Sciences and Engineering at the University of Southampton. He has a worldwide reputation for research innovation into energy-efficient and reliable embedded systems, evidenced by numerous national and international recognitions. He is a Fellow of the Royal Academy of Engineering and the IEEE. He is Editor-in-Chief of the IET Journal: Computers and Digital Techniques. He has published over 300 technical papers, authored or co-authored 5 books and has graduated 31 PhD students.
Professor Sarvapali (Gopal) Ramchurn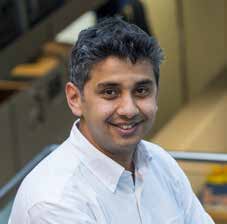 Gopal is a professor of Artificial Intelligence in the Agents, Interaction, and Complexity Group (AIC), in the department of Electronics and Computer Science, University of Southampton.  He is also the director of the Centre for Machine Intelligence and Chief Scientist for North Star, an AI startup.His research interests span around the development of autonomous agents and multi-agent systems and their application to Cyber Physical Systems (CPS) such as smart energy systems, the Internet of Things (IoT), and disaster response. His research combines a number of techniques from Machine learning, AI, Game theory, and HCI. He is currently part of a number of exciting research projects totalling over £8 million, including BReCCIA (a GCRF-funded project on Food and Water Security in Africa), the Smart Cities Platform, and the A-IOT Project. He also won the AXA Research Award for his work on Responsible AI. He has won a number of awards including the Prisoner's Dilemma Competition (2004,2005), Robocup Infrastructure Competition (2007), AAMAS best papers (2010,2013,2015), and runner up for the IJCAI-JAIR 2016 best paper prize. He is a member of the ACM E-Energy steering committee, a PC/SPC/AC member for AAMAS, IJCAI, CHI, AAAI, and co-organiser of the workshop series on Human-Agent Interaction.  He is a member of the EPSRC Associate Peer Review College and a member of the IET and ACM and has graduated over 9 PhD students.
Professor Tim Norman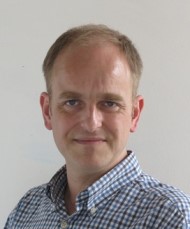 Timothy J. Norman is Professor of Computer Science and Head of the Agents, Interaction and Complexity Group at the University of Southampton. He read Electronic and Electrical Engineering at University of Wales, Swansea, then graduated in 1997 with a Ph.D. in Computer Science from University College London in the area of AI planning and scheduling. After working as a postdoc at Queen Mary University of London, he moved to the University of Aberdeen in 1999 where he was promoted to Professor in 2009. He joined the Agents Interaction and Complexity Group at ECS Southampton in 2016. He is an expert in artificial intelligence, logic and automated reasoning. His most significant research contributions lie in autonomous agents and multi-agent systems, argumentation, logics of norms, action and imperatives, and in trust assessment and trust-informed decision making. Application areas include healthcare, intelligence analysis, security/access control and IoT.
Dr. George Konstantinidis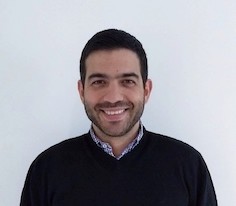 Dr. George Konstantinidis is an Assistant Professor/Lecturer at the School of Electronics and Computer Science, at the University of Southampton and a Turing Fellow at the Alan Turing Institute in London. His research interests include A.I. and data management, data integration, data privacy, the semantic web, and distributed systems. Before joining the University of Southampton he had been working for the University of Oxford and the University of Southern California developing algorithms and building systems that integrate thousands of information sources. He has co-authored over 25 scientific publications and has been involved in a number of research projects in USA (BIRN and SchizConnect on integrating bioinformatics and schizophrenia data, respectively), EU (TheyBuyForYou on integrating public procurement data) and the UK (PDQ and ED3 on query optimisation and ontology-based data analytics, respectively).
Dr. Thanassis Tiropanis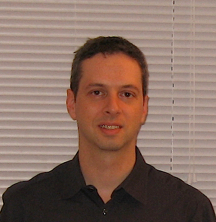 Thanassis is associate professor with the Web and Internet Science Group, Electronics and Computer Science, University of Southampton and is interested in distributed linked data infrastructures, linked data for higher education, social networks and social machines. Prior to that he was assistant professor with the Athens Information Technology Institute (AIT) in Greece working on Web technologies and e-learning. Prior to AIT, Thanassis was a research fellow with University College London (UCL) where he worked on network and service management research for telecommunication services. He holds a PhD in computer science from UCL, and a DipIng in computer engineering and informatics from the University of Patras, Greece. He is also visiting associate professor at the department of computers science at the National University of Singapore and a senior member of IEEE, a chartered IT professional with BCS, a fellow of the Higher Education academy in the UK and a member of the Technical Chamber of Greece.
Dr Blair Thornton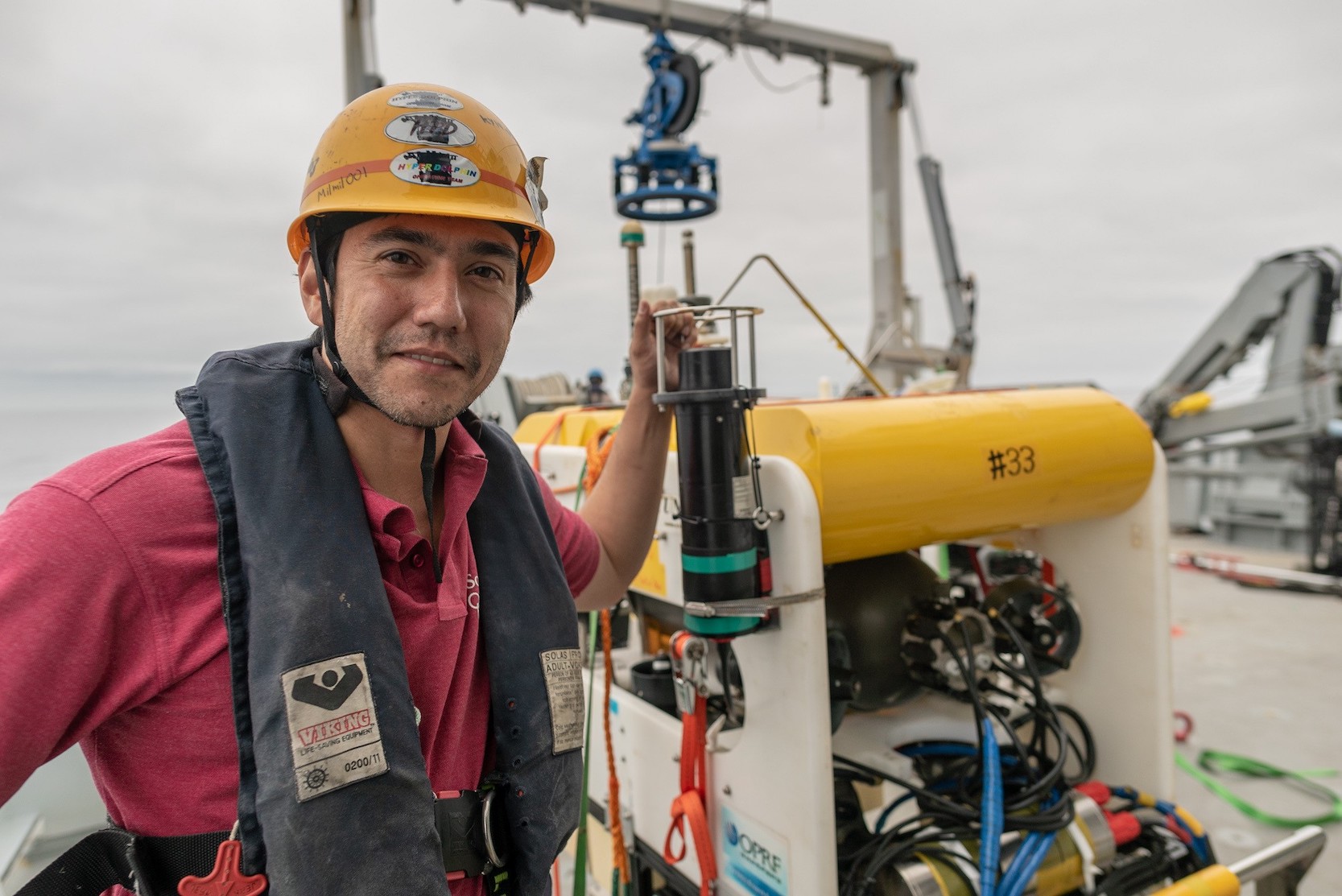 Blair Thornton is Associate Professor of Marine Autonomy at the University of Southampton UK. He currently holds an EPSRC Innovation Fellowship for developing robotic and AI systems for ocean research. Blair's research develops scalable methods for visual and in-situ chemical seafloor observation through improved sensing and autonomy. He has spent over 450 days at sea and has been PI of 29 ocean expeditions. He is dedicated to deploying systems in the field and overcoming bottlenecks in information flow from data-collection through to human insight.